To help you plan your study in advance, we have put together all the important dates in each year for both future students to see and download from our website. On this page, you can find out more information about the following:
• Academic calendar (Intake Date, Teaching period & breaks)
• Orientation dates
• Tuition payment due dates
• Sample time table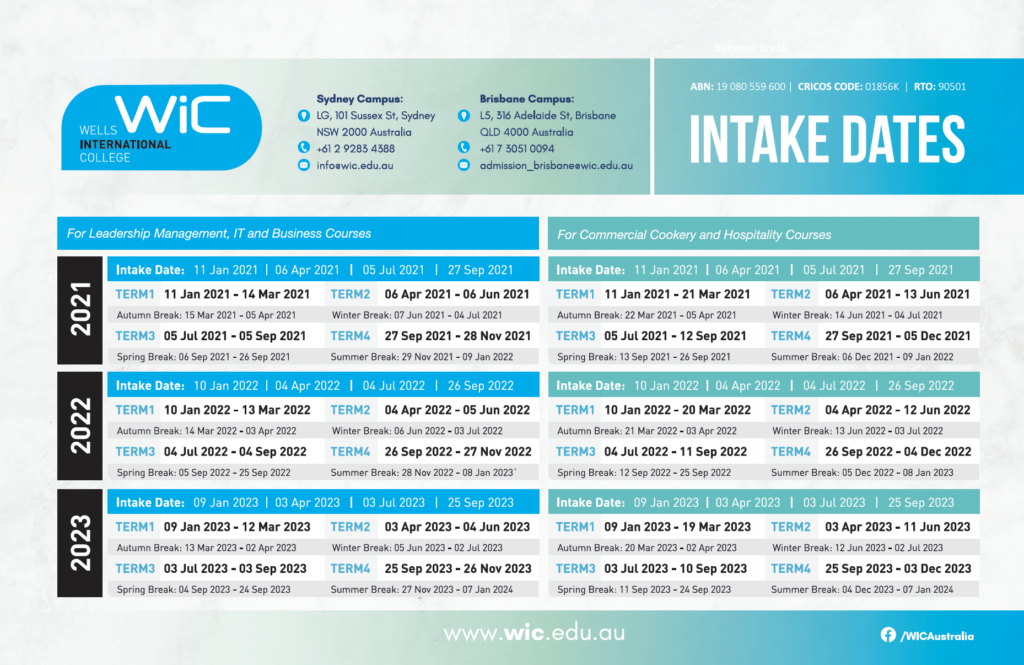 Wells International College conducts an Orientation prior to each term for newly commencing students. The Orientation is held on the Thursday before the Term start date and starts at 9am. Here, students will receive all the information necessary to study at Wells International College as well as a tour of the facilities. Students will also receive their USB lanyards containing the Student Handbook and all requisite forms.
You will be introduced to all the relevant staff and any questions you have can be answered. Welcoming new students is a pleasure for WiC Sydney staff and during the Orientation you can also choose the timetable that suits you best. So, don't be late!
All tuition fees and student fees are paid per semester. View the payment due dates on your fee statement or login to student portal and check Payment Due Dates page. Students who do not pay all fees owing by the due date may have their enrolment cancelled. The overdue amounts may incur a late payment fee of $200.00 plus all outstanding fees.
All prices are quoted in Australian Dollars ($AUD). Course availability is subject to minimum numbers. Information is correct at the time of printing. Wells International College reserves the right to change course structure, content or fee scales any time without notice.
We are very pleased to announce that in order to provide a more relaxed and flexible learning environment for our students, we are introducing a brand new Timetable. Students will now have the option of studying their 20 hours required by the National Code 2007 over a period of 2 days per week. 14 hours face-to-face and 6 hours online.
Important note: Time table may change on a term by term basis. Please check your time table at the beginning of each term.
IT, Business, Management, Hospitality Course